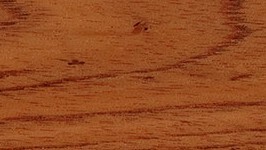 Product Description
APPEARANCE
Calantas is primarily an 'appearance timber'. Its heartwood ranges from a light red to a reddish brown, while the narrow sapwood is pale red or pinkish-grey in colour and quite distinctive. It is similar in appearance and also odour to Australian red cedar. 
Calantas has a moderately coarse texture with a grain that can be straight or interlocked.
COMMON APPLICATIONS
Calantas is used for decorative applications such as timber veneers, paneling, joinery and furniture.  Other applications for calantas include boat building, piano cases and carving.
COMMON FORM
Veneer
WORKABILITY
Calantas is quite easy to work by hand or by machine, but tools need to be kept sharp as the material can be soft. It is quick to dry, however there is a risk of internal checking and collapse.
Issues may occur with gluing, painting and finishing for material where resin is present.
ORIGIN OF TIMBER
Asia, SE Asia, South America
AVAILABILITY – FURTHER INFORMATION
Small quantities of calantas are imported into Australia. Check with local suppliers as to availability.
SOURCE OF TIMBER
Native Forest
Order Custom Screen Doors